This post may contain affiliate links for products discussed. As an Amazon Associate I earn from qualifying purchases. What this means is that by clicking one of these links, we may sometimes receive an affiliate fee.
This post may contain affiliate links for products discussed. What this means is that by clicking one of these links, we may sometimes receive an affiliate fee. This costs nothing extra to you.
Picking out your first WordPress theme for your new affiliate marketing site may seem a bit daunting at first, but it doesn't have to be. We've been building WordPress sites for quite a while and have used just about every type of theme on the market. Through these adventures, we've found some extremely useful bits of knowledge. If you've been looking for some help on getting started with your affiliate site (new or otherwise) we're here to help you find the best affiliate marketing theme for WordPress.
GeneratePress
GeneratePress has become one of the most popular free/premium WordPress themes available today, with over 2.7 million downloads and thousands of 5-star reviews. In the age of bloated premium WordPress themes, GeneratePress stands out as extremely lightweight, flexible, and developer-friendly.
The beauty of GeneratePress is its simplicity. It doesn't load a bunch of extra unnecessary code and still manages to be a full-featured and powerful WordPress theme with tons of functionality. The code is very modern and streamlined while maintaining a very SEO-friendly output that will help any site's speed and SEO rankings.
As an affiliate marketing theme for WordPress, GeneratePress provides an extremely simple and to-the-point structure to your site, focusing on readability, speed, and readability to really emphasize your content. If you want to spend more time working on your posts and content and less time fussing with your site then GeneratePress is an excellent option.
While the free version doesn't have all the customization options that the premium version has, it's still very powerful and can be used for a wide variety of sites. You have control over the overall layout structure as well as theme colors and typography directly from the WordPress Customizer—no weird proprietary theme panel here!
GeneratePress also plays very nicely with any of the major page builders, like Elementor, Beaver Builder, and many more. GeneratePress is actually one of the more recommended base themes for use with Elementor and others, thanks to its lightweight code and its ability to just get out of the way of the page builder when needed.
As GeneratePress is one of the more popular themes on the market, a large majority of developers do verify that their builders or plugins work without issue in GeneratePress. Also, the theme is fully compatible with WordPress's new Gutenberg block-based post editor and continues to be updated as Gutenberg is developed.
If the free option isn't quite enough options for you, you can purchase a GeneratePress Premium license, which will open up a ton more features for your site. More in-depth colors and typography customization, use of the dynamic and custom Elements and Sections functions for theme design, WooCommerce customizations, a more powerful menu builder, full blog page controls, and more.
Possibly the best part of the Premium version is access to the Site Library, a collection of pre-built templates within the GeneratePress theme that can be used just as a standard template or with Elementor and Beaver Builder page builders. There is an ever-expanding collection of well-designed theme templates ready to go right from GeneratePress Premium to ensure that you have a great site ready to go at just a few clicks.
And finally, GeneratePress is extremely developer-friendly while still being accessible to beginners. The GeneratePress support team is second to none, and the theme is built out from the ground up to be extensible for those who need more than what ships "in the box".
Because of its long history of excellent support, updates, flexibility, and power, GeneratePress is our go-to all-around suggestion for anyone who needs a site that is streamlined and easy to manage while ensuring that their site is super fast and reliable with great SEO.
Genesis Framework
The Genesis Framework from StudioPress is another well-regarded, developer-friendly theme framework that is often mentioned in the same breath as GeneratePress as two of the go-to themes/frameworks for WordPress site development. The main distinction for Genesis Framework, however, is that it's, well, a framework first and foremost.
With the Genesis Framework, you have something that is extremely more powerful for veteran WordPress developers—albeit with much more effort required. Most users of Genesis end up building their own theme to sit on top of the framework, or heavily customize one of the pre-built themes that StudioPress sells separately from the framework.
That's not to say that Genesis is difficult to use if you want to use one of those pre-built themes, it's just an extra cost on top of the framework itself. StudioPress calls these "theme packages"—basically a template that sits on the framework, and they have a pretty large selection of theme packages available for a wide variety of different types of sites.
While there are no free versions of Genesis Framework available, the framework package is quite affordable at a one-time purchase for unlimited sites and a year of support. There is also a Genesis Pro package that provides access to the entire StudioPress theme collection, the site builder plugin, the premium block library, and a bunch more—at a yearly cost, of course.
And it goes without saying that the Genesis Framework has the modern features you're looking for—Gutenberg compatibility, responsive design and themes, theme customizer, and one-click theme setup just as a start.
Genesis may be a bit of an overkill for an affiliate marketing site, but it's absolutely worth mentioning, especially if you have more auspicious goals for your site above a run-of-the-mill affiliate review site. The theme is absolutely a quality product, and if you decide to go this route, you'll have a solid foundation for your website.
Kadence Theme
Kadence Theme is one of a new generation of WordPress themes with an emphasis on modern functionality and real-time design and customization. The theme is pretty new but is already picking up a strong following for its simplicity and easy design.
The developers behind the theme, Kadence WP, has put their focus on making Kadence Theme a very intuitive product for users of all skill levels while ensuring that the theme stays very lightweight for excellent performance. The current iteration of the theme is focused mostly on one-page style sites, but does offer an excellent blog view and post format, making Kadence Theme an absolutely capable affiliate marketing theme.
The free version has a ton of features, and also has a very robust header builder built in for drag and drop header creation—no extra page builder needed. You can customize the header behavior, create sticky headers, use multiple menus, and more.
The premium version isn't available yet but it looks to make that header builder even more powerful with extra components, Mega Menu integration, Woocommerce theme compatibility, and more that hasn't been announced yet.
We're looking forward to the future of Kadence Theme and can't wait to see what else gets added down the line. But even right now in its early state, the theme is an extremely powerful free affiliate marketing WordPress theme that is extremely beginner-friendly with excellent speed and SEO.
Newspaper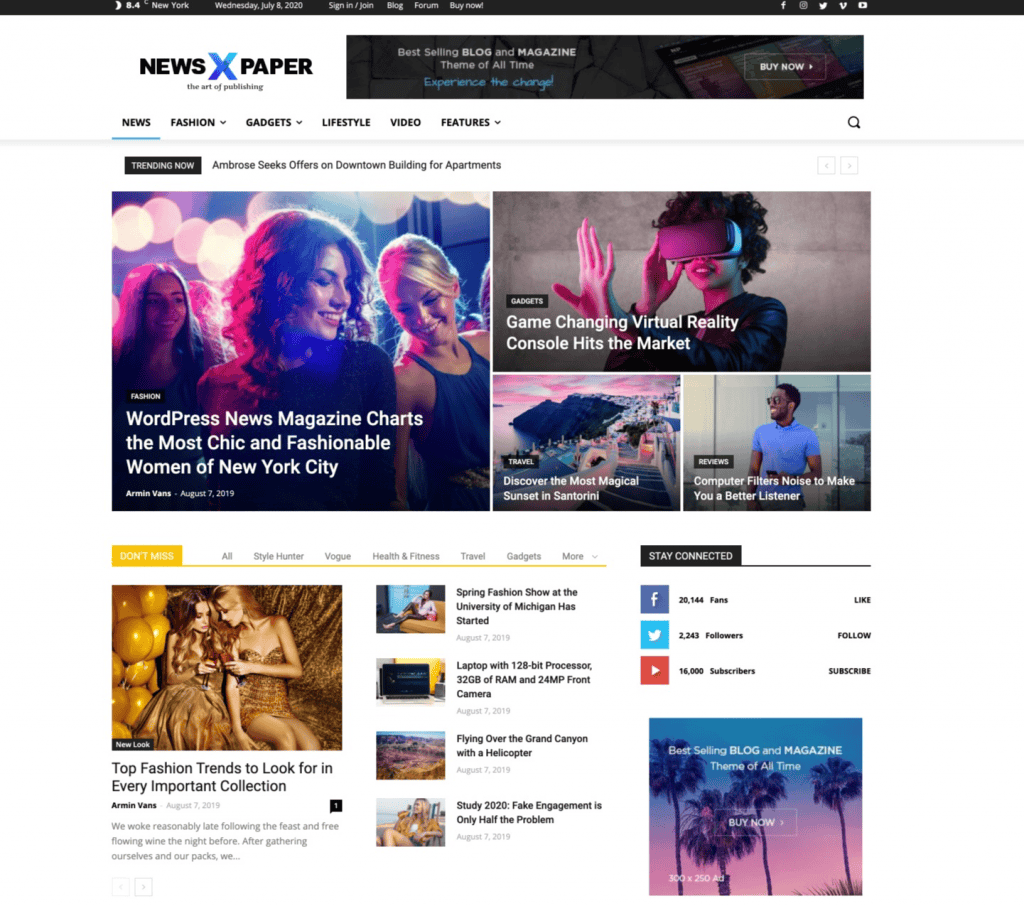 Newspaper is one of Themeforest's most popular magazine-style themes, as it is absolutely feature-packed and does almost anything you'd want it to do. From single-page layouts to dense newspaper or magazine layouts, this theme can do it all. Whether that's a good or bad thing, however, might be up to you.
We initially weren't going to include tagDiv's Newspaper theme in this list, but ended up deciding it was worth mentioning, and we'll get into all that in a bit. But it's really an interesting theme with a bit of a rocky past few years and hopefully a bright future ahead of it.
We started using Newspaper on one of our other sites, Creatorbeat, in 2017 on version 8. We started the site on tagDiv's free theme ionMag (which no longer exists) as an experiment to see what we could do with a free theme on a new site. Eventually, ionMag fell out of support and we had to migrate to a theme with current security updates and made the switch to Newspaper.
While the theme wasn't the lightest, it worked for our needs as trying to be more of a tech site than a pure affiliate marketing site. We were able to use one of the pre-made PRO templates and get things up and running.
Even after tagDiv rolled out their Cloud library and required a rebuilding of the site to ditch legacy template code to take advantage of the new, faster code, we were able to get everything back into shape pretty quickly. It's still not as fast as GeneratePress or something similar, but it also has way more features out of the box.
There are honestly too many features to list. But the amount of templates (PRO demos) that ship with the theme is astounding, and every few releases they include a few more. The theme includes the tagDiv Composer, their own in-house page builder. It's surprisingly good and stands up to the likes of Elementor with ease. There are some things I like in Elementor more and others I like in TD Composer instead, but it is absolutely a capable page builder.
With the page builder, you can drag in full templates or sections—footers, headers, menus, meta sections, banners, hero sections, and more. And they all make use of the new, faster Cloud templates. The child theme situation with Newspaper has always been somewhat terrible, but thankfully can now be almost entirely avoided by creating custom page or post templates in-theme, and even pull in Advanced Custom Fields if necessary.
The theme is well designed around SEO and has a bunch of in-post features such as smart lists, built-in schema for reviews, recipes, and more. It lends itself to review and affiliate marketing blogs quite nicely, even if it may not be as performant as a slimmed-down theme with a fraction of the features and "jack-of-all-trades" attitude.
Like we said before, we almost didn't include this because of the theme weight and some update issues we've experienced. But the sheer power that's available in this theme can't be underestimated. If you're willing to give up some site speed for features, you can't do much better than the tagDiv Newspaper theme.
aReview
Free themes, while often pretty decent, can be a bit limited or not quite up to par for what you have in mind. Thankfully, the aReview theme proves that free affiliate marketing WordPress themes can be rock solid and reliable.
While aThemes does provide a ton of other great themes, aReview is one of the more popular in the group, and with good reason. Just like most of the other themes in our roundup, aReview is a fast, lightweight, and quite powerful theme for any tech, review, or affiliate marketing website.
The aReview theme provides a responsive design with all of the customization options you need to make your site unique. There are built-in social icons that match the rest of the theme quite nicely, along with a great review carousel and full modern standards and best practices.
The documentation is a bit sparse, but thankfully it's not really necessary as aReview is very straight-forward. Getting your site off the ground with this free theme couldn't be easier, and if you're starting a review-based affiliate marketing site, the free aReview is a great theme to look at early on.
Hueman
As far as free magazine style WordPress themes go, Hueman is up there at the top for sure. This theme has had a long history and is almost always on some best WordPress theme list, and for plenty of great reasons.
First, it's free. Yes, there's a Pro version, but the free version offers an absolutely huge amount of features and customization for the price of zero. Add to that the fact that Hueman isn't designed to look like your ordinary WordPress theme. It definitely stands out against a lot of other themes out there, and for that we love it.
That also means, however, that those in the know will spot your choice of theme pretty quickly. We don't feel that's enough to keep people from using the theme, it's just something that will happen. And it's definitely worth the easy recognition for the quality of this theme.
Back in the day, Hueman didn't have a page builder, but now Press Customizr has jumped onboard the builder bandwagon and has their Nimble Builder. It's a pretty straightforward page builder that can be used from the WordPress Customizer with little barrier to entry. If you want to start building pages, this is a fast way to get started.
And that's just the start, as Hueman offers a ton of flexibility for customizing the header, menus, sidebars, and post/page layouts. Despite being a much older theme, it's been fully modernized with responsive code, new layout options, and fast performance and great SEO.
Hueman is an excellent affiliate marketing theme thanks to these features, making it pretty easy to get a new site up and running if you're not sure where to start. And once your needs surpass the free version, the Pro version is super affordable with yearly and lifetime purchase options.
Overall it's been one of our favorite themes for years, and we're happy to see it still thriving today.
Astra
Astra is another very popular theme for those who like to work with page builders like Elementor and Beaver Builder. The theme's focus is on speed and page builder compatibility, but still offers a great library of pre-built starter websites if you just want to hit the ground running.
Following suit with modern themes in other ways, the customization is all done through the WordPress Customizer, making modifications a breeze without needing to know code. This includes layout settings typography, theme colors, headers, and your blog posts and archive pages.
In our opinion, the free version is a bit underwhelming compared to others out there, but the pro version is where it's at. Astra Pro has a ton of features to give you ultimate customization of your WordPress site and offers excellent support if you need some help along the way.
While a lot of the starter themes aren't necessarily built to cater to an affiliate marketing site or blog (many are one-page or corporate themes), it's still an excellent foundation for an affiliate site. Astra is consistently in the discussion for things like "fastest WordPress theme" or "best WordPress theme for page builders", and has a huge install base because it's such a competent theme.
You'll definitely want the pro version if you get serious about running an Astra-based WordPress site, but if you want get a feel for the theme, the free version is definitely worth looking at. It's a well-designed theme with tons of speed and modernity; don't leave this one off your list.
REHub
REHub is one of the highest-selling affiliate marketing WordPress themes on Themeforest and is another all-in-one WordPress theme that is probably a bit too full-featured. But as far as a list of best affiliate marketing WordPress themes goes, it really deserves to be included—it may not be best for everyone, but it needs to at least be in the conversation.
REHub, while being a do-literally-everything-eCommerce-related theme, it has one very unique distinction that sets it apart from other themes. It's the only currently developed theme that is actually endorsed and recommended by Amazon. They do call out that while it's built for more typical eCommerce sites like price comparison sites, it's an excellent Amazon Associates site or other affiliate marketing site.
While personally we're moving away from large, multi-function themes for our personal projects, we get that for some people they're an excellent option (after all, we're still running the aforementioned Newspaper for one of our flagship sites). And REHub is definitely one of the most well-known and popular do-it-all affiliate marketing WordPress theme out there—the amount of "best of" lists it shows up on is astounding.
But we don't recommend this theme lightly. If you're new to WordPress, stay away from this theme. If you're new to affiliate marketing, also stay away. But if you're familiar with WordPress and affiliate marketing and want a theme that absolutely, positively will do every crazy thing you'd want to do on an affiliate site, REHub is an excellent choice.
First of all, it's not just an affiliate marketing theme, but also a coupon site theme, a directory theme, a comparison theme, and that's just a start. You'll find modern features like page builder compatibility with Elementor, Gutenberg, and site modification with the WordPress Customizer. The theme even comes with several dozen custom Elementor modules built for the theme, including listing modules.
There are a ton of pre-built styles for any sort of e-commerce site, whether you're selling directly or setting up a multi-vendor site, or just aggregating deals. The developers have also focused heavily on Content Egg Pro and Affiliate Egg Pro (Pro versions are not included, but does come with free versions of these plugins), ensuring that you'll have full compatibility with any existing CE/AE functionality. These systems are a bit advanced but can offer a ton of power if you decide to go down that path.
REHub also has compatibility with Buddypress, Mycred, and a handful of other integrations for multi-vendor support, membership subscriptions, and more. And thankfully the developers are constantly updating REHub, as confirmed in their frequently updated changelog.
We'll be honest. Like we said before, we don't recommend REHub to everyone. But if you've got the existing knowledge and experience while looking for something extremely capable and flexible for any sort of affiliate marketing or e-commerce site, REHub is worth a look. It might seem a bit daunting once you see what's involved with getting this theme fully operational (read through their documentation and tutorials to see what we mean), but with the right plan and determination, it could be the right choice for you.
Voice
Voice is another extremely popular WordPress theme on Themeforest and is a quite excellent modern magazine-style theme that translates well to an affiliate marketing theme. While the theme has been around for a while now, the developers have constantly been updating the core of the theme to ensure that it's fast and streamlined for excellent performance.
The theme is fully responsive and built for excellent performance from the start. You'll find it's also very customizable with tons of layout presets for headers, post listings, smart listings and more. There is also integrated social modules, related posts functionality, and infinite scroll loading on single posts—this removes the need for pagination and helps keep users on your site longer.
Of course there's also excellent integration for plugins like WP Reviews, an excellent review plugin for affiliate marketing or review sites, WooCommerce, bbPress, and all the usual suspects like Yoast, WPForms, Disqus, and more.
And Voice is extremely easy to customize and design past the pre-built templates if you so desire. The design is broken into modules that you can easily piece together, and they all work and look great. It's absolutely a quick process to get a great looking affiliate marking site up and running with little effort involved with this theme.
We like Voice because it's gorgeous, easy to set up, works great out of the box, and support is excellent if you need a hand. There's not much you can't do with this theme and it would make an excellent platform for almost any affiliate marketing site.
Admania
Whereas most WordPress themes focused on affiliate marketing puts emphasis on the overall page speed and then making linking out to affiliates easy and convert well, Admania is a bit different in the fact that its main goal is to assist with advertising revenue. If your site is built around monetizing traffic itself and not referrals to affiliates this may be a great option for you.
Admania is a well-reviewed theme on Themeforest and loads quite fast. There are a large number of home page templates available as well as post, category, archive, and page layouts as well. And unlike many other Themeforest plugins, you have full Elementor support as well as Events Calendar support.
While this theme may not be for everyone, it does stand out as a very well-designed, clean layout that is quick and nimble while providing excellent ad placement options, including sidebar and post sticky ads, header/footer ads, and ad rotation. There's even an anti-adblock detector built into the theme in case you don't want to use one of the stand-alone anti-adblock detector plugins out there.
All in all, Admania is a very well-rounded and capable affiliate marketing and ad placement-friendly theme that is worth the consideration if you need a WordPress theme that is built with an advertising/Adsense focus but doesn't look outdated or overly pushy with those ad placements.
Final thoughts
There's honestly an exhausting amount of WordPress themes out there, and trying to pick the perfect theme for your affiliate marketing site is sometimes more difficult than actually building the site itself! We hope that our shortlist of favorites can help make the task easier for you in the meanwhile, and as we find new themes we love, we'll update this guide accordingly.
Did we miss your favorite theme or is there something we should add to the list? Please drop us a comment down below and let us know! We're always excited to see new cool WordPress themes, so sound off in the comments!