This post may contain affiliate links for products discussed. As an Amazon Associate I earn from qualifying purchases. What this means is that by clicking one of these links, we may sometimes receive an affiliate fee.
WordPress organizes its posts (and custom post types) with two types of taxonomies–categories and tags. However, it does not allow for including pages in these taxonomies without some customization as this is not a commonly sought-out goal within WordPress administration. But that's not to say that it's not possible, nor are there zero reasons to do exactly that.
Can you add categories to pages in WordPress?
No, not with WordPress straight out of the box. WordPress treats all pages as static, unorganized, and completely equal. They're also not sortable, groupable, or otherwise able to show up in any of the existing category pages alongside your posts.
You'll need to add some custom code or make use of a plugin to do this for you. Thankfully there are some good plugins that will let you assign categories (or even tags) to your normally unorganized pages.
Adding categories to pages with a plugin
Thankfully, there are a few plugins to let you link categories with pages and even one that's been maintained recently. With that said, our choice for this is Create And Assign Categories For Pages as it works with existing categories and is a recently-ish updated plugin.
The plugin is extremely simple to use, as there aren't any settings available to configure. After installing the plugin you'll instantly find that you have the same options for editing categories and tags in exactly the same locations that you'd expect when adding categories and tags to your posts.
Create new categories for pages
Just with the post categories, you can create, edit, and delete page categories from the Pages > Categories menu.
This is the same screen as found from the Posts > Categories screen, so it doesn't really matter which one you use, but it's easier to get there if you're already in the Pages screen.
Here you'll be able to create new categories and edit or delete existing categories. The Count column, it should be noted, is going to give you a total of all posts and pages assigned under that category.
Add categories and tags to pages from the editor
First, you'll have sections for both categories and pages from the page editor screen, same as you'll see in the posts editor.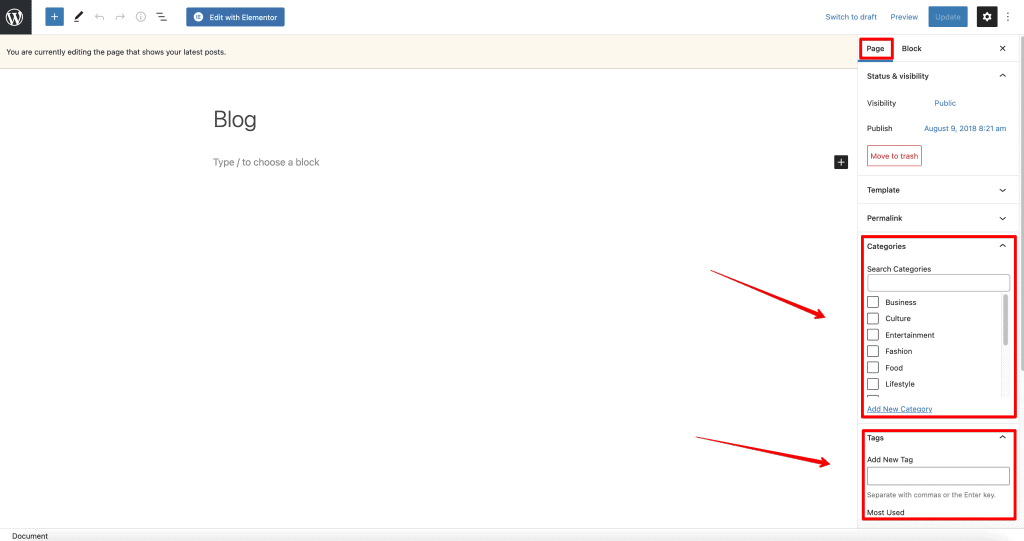 From here you can select your desired category (or multiple categories) and tags. You can also create a new category here, same as from the posts editor.
How to link categories with pages in WordPress Quick Edit
One of our favorite tools in WordPress administration is the Quick Edit screen. It lets us make quick edits to posts and pages without having to load the full editor.
We're glad to see that this plugin will add the same posts features to the pages Quick Edit screen, making changes to pages just as easy as you would add post categories.

Why would you want to add categories to pages?
It's not a common need by any means, but it can definitely come in handy. The main reason why you would want to add a page to a specific category is to include a page in the post archive pages along with other posts.
Yes, the general rule is that if you have a piece of content that needs to be sorted it should be a post. But let's say you've created a page that stands on its own but also could benefit from showing in category pages.
Adding a post category to the page means that you can include that page in archive pages–meaning that your page will also show up in those archives. This gives your page more visibility when users are browsing your category page.
This is especially useful if you have a page that converts or sells well, such as a resources page. You could add this into an appropriate category page and even tag it as appropriate.
Keep in mind the same rules for page categories as with post categories. You'll want to adhere to your hierarchy as well as keep things as simple as you can get away with. Also, remember that using multiple categories isn't something that should be done frequently primarily for SEO purposes (if your URL contains the category in the permalink structure).
Final thoughts
We hope that this plugin stays updated, as some other suggestions out there have fallen well out of date and are no longer developed. But so far we really like this plugin as a simple and efficient way of linking categories with pages in WordPress. It's not a common task, but it's a useful trick to have in the bag if you need it.