This post may contain affiliate links for products discussed. As an Amazon Associate I earn from qualifying purchases. What this means is that by clicking one of these links, we may sometimes receive an affiliate fee.
Ahh yes, the inevitable "best WordPress hosting" post–frankly, we're surprised it's taken this long to get around to it, but it's just such a massive topic that it's a bit intimidating. But we finally got our preliminary testing done and we're ready to start diving into our favorite WordPress hosting services and make some suggestions to help you make some well-informed decisions for your web hosting futures.
Best for speed, ease of use
Cloudways
Best for beginners and value
Veerotech
Why compare WordPress hosting?
To find the best one, of course! To be honest, choosing a WordPress host can actually be pretty intimidating. Every single host out there says they're the best, no exceptions. There's usually some jargon-heavy marketing speak that explains why they're the fastest, most reliable, blah blah blah.
Sometimes it's useful or accurate, other times it's just blustery marketing. Seeing through it can be tricky, and without direct comparison, you don't always know if "the best" is really the best.
The ugly secret behind WordPress hosting reviews and why you can trust us
To be fully transparent, the web hosting and WordPress niche as a whole have some pretty high-paying commission programs that affiliates will take advantage of. This basically means that some reviewers will really just recommend whichever hosting provider offers the best affiliate commissions.
While, yes, we are using affiliate links in our article we are actually performing our own unbiased tests and providing that data without manipulation as best as we can to provide actual, real-world results to the best of our abilities. While we may have our personal favorites going into the results we absolutely don't let this alter our findings to point to the "best commissions".
We actually pay for a number of these hosts ourselves where possible, and where web hosting providers have provided free accounts for testing we have specifically stated that. Just because someone gave us a free hosting plan doesn't mean we view that as a payoff–if anything, it means more work for us in the long run (lmaoooo).
Long story short, it comes down to this: Yes, we're using affiliate links and trying to get paid for our work. No, we're not letting that change our results, whether by better commission rates or pre-emptive kickbacks from hosting providers. We're just running our tests and making lazy Excel graphs showing that data with as many unbiased processes as possible.
Our WordPress hosting comparison goals
Other than the aforementioned goal of finding the best WordPress hosting service, we wanted to really get a good breakdown of what some of these different types of hosting providers can deliver against their advertisements and their reputation. As such, we've compiled a small group of different hosts and hosting technologies to get a good cross-section.
Unfortunately, there really isn't any single objective quantification or agreement of what is definitively "the best", so what you end up with is a bunch of different sites providing their lists of their top providers, but not always with a good perspective of how they stack up against each other.
And to be honest, our comparison here isn't going to be any more complete or scientific at first–as we said, this is a huge task, and we're only just getting started. But what we do have is a good perspective on what we think will get the most amount of information before getting into the territory of splitting hairs.
We also wanted to try and answer for ourselves a few things such as "Nginx vs Open LiteSpeed (OLS)", "VPS WordPress hosting vs managed-ish VPS hosting", "is shared hosting really that bad?" and "does X sites ridiculous claims actually come true?".
We think that we've come up with some good answers to these questions and have found some interesting results from our testing.
Our WordPress hosting testing methodology
WordPress hosting performance testing setup
As this is our first go at web hosting testing we've opted to keep things pretty simple. The bulk of our measurements are coming from parallel testing in both Pingdom and StatusCake, similar to our Google Analytics plugin performance testing.
This time around we've set all of our performance checks to 30-minute intervals on both systems instead of using 15-minute intervals on StatusCake and ensured that both groups of checks were using the US West servers. While not identical, they're close enough to ensure that the series of tubes shouldn't matter too much.
Pingdom provides actual median page load values over a 7-day window as part of their measurements (shown in the screenshots for each site below). StatusCake, however, does not. Their page load speed in the summary (again in screenshots below) is actually the most recent test result–this is massively misleading.
They do, however, provide per-day averages lower down the page of each test, and we've thrown these into an Excel sheet and then averaged those together for the values in our graphs. While technically not a true median, trying to derive this is much more effort than we're willing to go through for not much more accuracy in our data.
That all said, we have taken steps to improve the representation of the scores this time. Unlike the last testing, we're now testing actual post URLs and not just the home page. We felt that this is more indicative of the performance that really matters–Google won't provide the home page in SERPs so its performance doesn't matter as much as that of an actual post.
We picked a good post from our demo template content and used it for our performance checks across all hosting platforms and testing tools.
As with the analytics testing, both platforms did provide fairly different results, and to provide a bit of perspective we've also performed one-off tests in GTmetrix and Page Speed Insights for both mobile and desktop. If the need arises we may go back and run batches to average out, but for now, we feel this is sufficient.
What about hosting uptime?
Yeah, uptime is absolutely crucial to a web host. In our experience, all of these WordPress hosting providers are pretty much never down, so we just kind of… skipped it. Never fear, however, we've now set up uptime checks in both StatusCake and Pingdom and will be adding that data once we collect a few weeks' worths of reliable results. At that time, we'll delete this section or something.
WordPress website setup for testing
We wanted each of our WordPress sites to be as identical as possible while still using whichever custom setup that the particular host bakes into their installer scripts. This means that we couldn't just drop in cloned instances but instead worked off of a checklist.
Each WordPress site was set up using the hosting platform's app setup or install script. From there, we installed WPCore to push our small set of plugins to each install.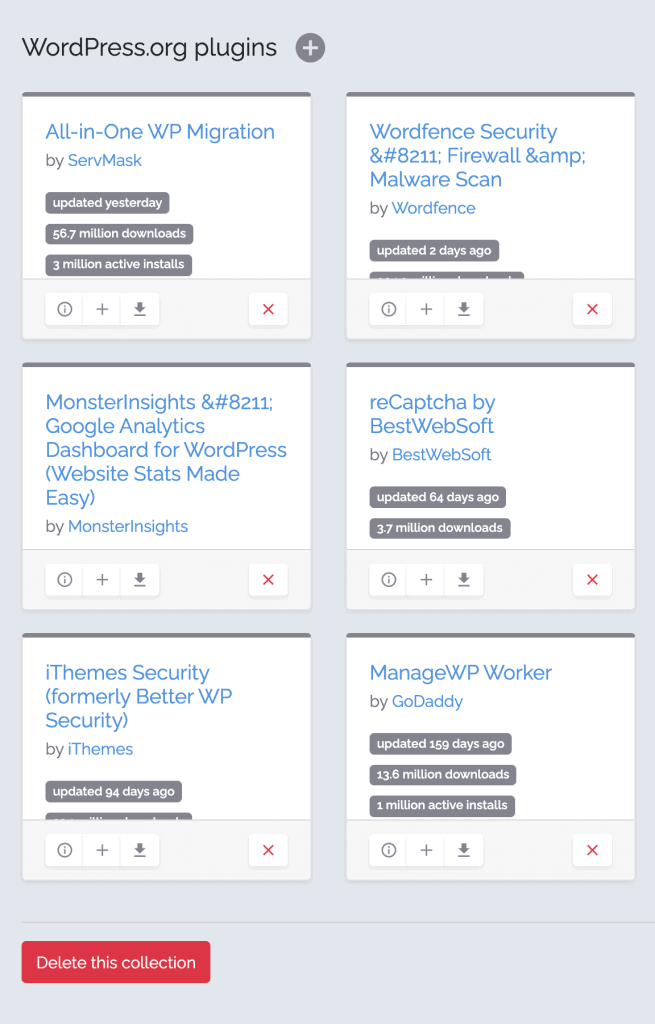 Once these were pushed, we then went through our checklist for the install and made sure all the WordPress sites and their plugins were configured the same way.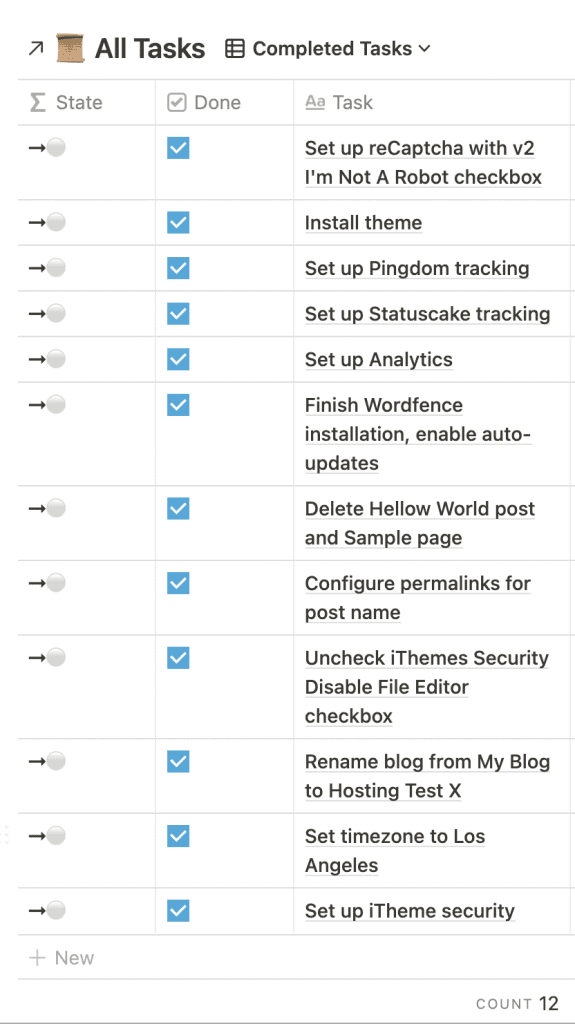 We've decided to use just a few plugins to ensure that the sites are secure and may represent a normal (if not very minimal) plugin setup from the average WordPress user.
WordPress theme setup for testing
Next, we configured our theme of choice, Newspaper 11 by Tagdiv. We chose Newspaper because we have experience with the theme and it's not the most lightweight theme out there.
Tagdiv has been making improvements to the theme, however, and ironically most of those improvements came after we switched our flagship site away from it in favor of GeneratePress Premium.
But we wanted to look at our WordPress hosting provider choices without every advantage given to it and opted for a popular all-in-one theme that's indicative of what a lot of users may themselves choose. We also picked one of the new Tagdiv Cloud demo templates, City Pro.
It's a unique layout and, more importantly, is a freshly developed template so we know it has modern code and none of the legacy stuff from the Tagdiv Standard Pack plugin. While we're not giving the advantage of a mega-fast theme like GeneratePress or Astra, we didn't want to fully handicap performance and give Newspaper the benefit of the doubt with a modern template.
Here's the demo content post from the Tagdiv demo site we used across all of our testings. We're not revealing the actual URL of our test sites because we don't want any external sources to potentially affect future testing (not that we think we'll be flooded with that much traffic any time soon, but better safe than sorry).
The theme was set up using the Newspaper template import including demo content. As we deleted the Hello World default WordPress post/page, all that's left is the City Pro demo content.
The best WordPress hosting compared
Now that we've gone over the rules of the game, let's look at the players. No, this isn't the most comprehensive comparison of WordPress hosting out there, but it is a fairly representative list of some of the common archetypes of web hosting services available. So with that said, let's get on with the show!
1 – Veerotech (shared WordPress hosting)
Veerotech
Veerotech is a popular web hosting company that is on the shortlist of recommended hosts on the r/webhosting subreddit. The owner is also highly active on the sub under the name u/omgwtfbbq69 and is quite helpful on the sub. We've included Veerotech as a good shared WordPress hosting benchmark to which other plans can be compared.
While we host the majority of our sites on a VPS, we jumped at the chance to pick up a Black Friday deal for the top-tier Excel shared hosting plan back in 2019 and have been using it for some random sites and tests that don't need to be on the VPS or other managed hosting. It's also where we hosted our Google Analytics plugin performance tests.
Veerotech also offers other hosting types, such as managed WordPress hosting, unmanaged WordPress hosting (to be honest, not sure what the difference is between this and a shared plan), reseller hosting, and others.
They also offer some great support. The few times we've needed to reach out for assistance they were always quick and helpful, so no complaints there.
Veerotech hosting plans
We're testing Veerotech's shared hosting plan; the Excel plan in particular. All of their shared plans offer all of the usual features–Cpanel, email hosting, free SSL certificate deployment via Let's Encrypt, backups, and unlimited WordPress installs at the Grow and Excel plan levels.
WordPress installations are deployed via Scriptaculous, which also offers cloning of installs, plugin package deployment, and more. LiteSpeed LS Caching is also offered on all applications for vastly improved WordPress performance. And. on that note…
Veerotech hosting perfomance results (with LiteSpeed caching)
We're leaving the section below with the non-LiteSpeed results to provide a full look at a shared hosting provider's performance, but most people will be interested in the LiteSpeed caching performance numbers.
And let us tell you, LiteSpeed makes a huge difference. Turning on this caching method brings site performance from almost 3 second page load times down to about 1 second. This is a huge improvement, even though the page size is almost identical.
We also see significant jumps in Lighthouse scores in both Page Speed Insights and GTmetrix. The scores achieved with a value-based shared hosting and a good LiteSpeed caching system are actually pretty surprising.
With LiteSpeed in the mix, we absolutely wouldn't hesitate to suggest Veerotech as a good starting web host for lower-traffic sites.
Veerotech hosting performance results (without LiteSpeed)
It should be noted that as of running these benchmarks initially the LiteSpeed LS Caching was not enabled. We noticed that it wasn't turned on by default and re-ran the testing with LiteSpeed caching turned on.
According to our tests, Veerotech is the only provider that was somewhat close in results between Pingdom and StatusCake. This is an odd outlier and we're not sure why this is the case. We may see this change after re-running with LiteSpeed so we'll just have to wait and see.
But perhaps. the unsurprising part is that, as this is classic shared hosting, it's the slowest WordPress hosting provider in our rundown. That said, it's absolutely where we'd expect with shared hosting and we're not mad at the speed and features for the money, and even less so with LiteSpeed turned on.
While StatusCake and Pingdom medians differ, the one-off GTmetrix load time is closer to the Pingdom results. And the Page Speed Insights scores are actually similar to the rest of the hosts, at least in general. All of our mobile scores are far below the desktop scores as we haven't done any customization to the sites, but while the scores are lower they're still respectable.
2 – Vultr HF and RunCloud running Nginx (VPS WordPress hosting)
Vultr is one of several very popular VPS hosting providers, as well as being one of the newer in the category. They're known for great performance and features, quickly competing with other providers like DigitalOcean, Linode, and others.
What they're not known for, however, is built-in management and dashboards–no VPS host is. For that you'll require a server management service such RunCloud paired up with your Vultr account to do all the heavy lifting.
We run the majority of our sites on Vultr Hgh Frequency instances now, although we had the regular instance before HF instances were rolled out and migrated. The difference between a regular and HF instance largely depends on the type of application you're running–we saw marginal improvements to our WordPress sites after the migration.
This particular instance is a Vultr HF instance with 2vCores and 4GB RAM. It's one we've been using for a while and does have a bunch of other sites installed on it already.
It should also be known, however, that our HF instance was cloned with a snapshot so it's an older Ubuntu 18.04.5 LTS install. Attempting to update to 20.04.2 LTS will most likely cause issues with the RunCloud server management platform, so we're leaving this as is until absolutely necessary and we can build a new instance and migrate the sites on that instance individually.
This configuration was also built out with a lot of manual security settings and tweaks before RunCloud could deploy from the server directly, so it's not going to be identical to some users. We may build a new Nginx deployment at some time to check a fresh install compared to our older test instance, but that's for a future project.
That said, we've been running Vultr and RunCloud on top of an Nginx stack for many years now and it's been very reliable as it is. The customer support from both Vultr and RunCloud has been excellent when we've needed it, and in general, it's a pretty great combination.
Nginx cannot read .htaccess files for server configuration, so certain customizations and tweaks need to be done in a different manner. While this may be a bit of a learning curve for some, it's not terribly difficult to get your bearings.
Vultr and RunCloud hosting plans (Nginx)
One of Vultr's main draws is their scalability as your needs change. Their plans are divided into regular compute instances and high-frequency compute cores. Within these groups, they are all pretty much identical aside from the CPU, memory, bandwidth, and storage specs.
Our Nginx test site is on a 2 CPU 4 GB plan along with some of our other sites. There is no real web hosting features offered, as a VPS is basically a "bare metal" server–you choose the operating system to have Vultr install and then you're responsible for installing the software on the server after that. This brings us to the second half of a proper Vultr (or any VPS) setup.
Unless you're a certified Linux ninja, you'll need something to build and manage the webserver portion of your VPS. RunCloud is a popular server management as a service that can do all the heavy lifting for you.
We're on the Pro plan here so we can connect unlimited servers/instances from across a large list of VPS providers. This is how we were able to create a separate instance for the OLS testing in our next entry.
Vultr HF and RunCloud on Nginx hosting performance results
This is the WordPress hosting provider we use for most of our sites and is the setup we're most familiar with over the past several years. We knew that it would most likely be in our top contenders and the testing does confirm this. Again, this is not a fresh install, but instead a several-year-old deployment with multiple other sites on the install.
Both StatusCake and Pingdom results are near the top of the group with GTmetrix scores showing closer to the Pingdom results again. We still see a big gap between mobile and desktop Lighthouse scores on Page Speed Insights but they're pretty respectable for not performing any extra optimizations.
3 – Vultr HF and RunCloud running OpenLiteSpeed (VPS hosting)
Vultr and RunCloud
As we mentioned before, Vultr allows for full control over your server–whatever you install on it is what it is. In this setup, RunCloud is what handles the software install and server configuration. After a somewhat long wait, RunCloud now allows for setting up OpenLiteSpeed (or, OLS) on your server instances.
OpenLiteSpeed is the open-source version of LiteSpeed, which provides for a bulk of the LiteSpeed services and features with a few limitations. This means that it can be deployed anywhere without requiring the licensing of the enterprise version.
The other benefit to OpenLiteSpeed is that it's a drop-in replacement for Apache because it can read .htaccess configuration files–something that Nginx cannot do. This means that you won't need to learn new server management if you deploy to OpenLiteSpeed.
While some tout massive benefits in performance on OpenLiteSpeed, it does depend on the application, so we're testing a fresh server deployed on a Vultr HF instance directly through RunCloud against our tried and true Nginx instance on an identically powered instance.
It should be noted that you cannot combine Nginx applications and OpenLiteSpeed applications on the same server in RunCloud. Once you deploy a server you will need to choose between the two. This is the reason why we needed to create a whole new Vultr HF instance for the OLS testing, so keep that in mind if you're testing yourself.
Our particular instance in this case is another Vultr HF instance but is the 1 vCore and 1GB RAM package. There are no other applications on this instance, and as such felt that it was comparable to a larger package with more server load such as our Nginx instance.
Vultr and RunCloud hosting plans (OpenLiteSpeed)
While our RunCloud plan is identical as shown above, for this test we spun up a brand new 1 CPU 1 GB instance for testing. We felt that as this instance is only running a small WordPress site and won't have other sites on the same instance it would be a fair fight between it and the other Vultr instance.
Vultr HF and RunCloud on OpenLiteSpeed hosting performance results
As this is basically the same web hosting as the previous one it's not surprising that the overall speeds are pretty similar. StatusCake is actually a tad faster, but Pingdom is definitely slower, and the mobile Lighthouse score is considerably lower.
GTmetrix is also pretty similar, and even just a tad faster. That said, our GTmetrix tests are one-off runs just for validation against the other two compiled datasets of StatusCake and Pingdom, so there's some wiggle room in that data as well.
Overall, however, with a technically lower-powered hosting plan than our Nginx instance balanced with the lack of other sites sharing the instance, we see that OpenLiteSpeed is basically the same as Nginx and not the magic bullet for WordPress hosting that many people claim it to be. At least as far as our testing shows.
4 – WPX (managed WordPress hosting)
First of all, we need to make it very clear that we actually host this site on WPX. We pay for our hosting with them and have not received any compensation for inclusion in this test. We took advantage of a Black Friday sale a while back and ended up liking their platform; it's a no-brainer to add them to any list of the best WordPress hosting services.
WPX is a very interesting WordPress host in the fact that it's "managed hosting", but not really in the true sense of the word. They don't necessarily deal with the WordPress management itself, but they do handle all of the server management, CDN and caching, staging setups, malware protection, and others.
As they do a lot of the heavy lifting themselves, there's no Cpanel or other feature-rich control panel–your options will be limited, but that's kind of the whole point with managed WordPress hosting. This also means that they can boast some very high performance for pretty much all users. As long as your WordPress installation isn't heavily bloated you should get great results.
One of the best parts of WPX, however, is their ridiculously fast customer support response times. No matter what time of day it seems that we always receive a very quick response. It may take a few go-rounds to get the right response or to understand the issue you're communicating, but they've never failed to resolve any of our issues.
With the "managed WordPress hosting" aspect combined with great performance and obscenely fast customer support they squarely position themselves against other managed WordPress hosting providers like Kinsta, WPEngine, LiquidWeb, and others. But WPX manages to do all this at a much lower cost than the majority of managed WordPress hosting providers.
They can't quite compete with our VPS test sites in pure performance but removing the technical hurdles is absolutely worth the cost if you're not comfortable with even light server management.
WPX hosting plans
WPX only offers three plans, and other than the number of websites, amount of storage, and bandwidth they're all equal. For this test, we're using our Business plan. All of their plans do offer the WPX Cloud CDN, free SSL certificates, staging sites, and more.
WPX hosting performance results
We had some pretty high expectations for WPX in these tests, mostly due to their marketing and some other WordPress hosting comparison articles out there. Maybe it's reliant on WordPress site customization, but WPX didn't top our list despite rooting for them to do so.
WPX is actually our second slowest hosting on the list, but it is still considerably faster than our shared hosting (will this change after running the shared testing with LiteSpeed? We'll find out!). GTmetrix and Lighthouse scores confirm this, and while it's not the blazing fast speed we were hoping to see it's still not terrible.
5 – Rocket.net (managed WordPress hosting)
Rocket.net is probably the newest hosting provider on the list, and they've really made a name for themselves in a super short amount of time. In fact, they actually reached out to us directly at the end of 2020–we hadn't really been aware of them until then.
We do need to be very specific in that our hosting package has been provided free for testing as part of that outreach for their affiliate program–of which we are now part of, primarily because their outreach team was really helpful and gracious, especially with such a small player in the WordPress space as we are.
We're really glad they contact us, however, because they're a pretty great WordPress hosting service. Setting up our test site was a breeze and their performance is top-notch.
That said, compared to a VPS/RunCloud setup it's definitely more expensive to go with Rocket.net, but their performance is absolutely worth it. WPX does provide more WordPress websites for the money, but Rocket.net beats them on performance in our tests.
Rocket.net hosting plans
As mentioned above we're using a plan provided by Rocket.net for our testing, and that is the Starter plan. Offering one WordPress installation it's not an inexpensive option but it does come with all of the other features included in other plans.
Rocket.net definitely does market itself as a high-end hosting provider and the performance seems to back that up so far.
Rocket.net performance results
We were somewhat surprised to see Rocket.net take a top 3 finish in the tests, especially since it's such a new host and we found out about them from their outreach team.
Rocket.net's WordPress hosting platform is basically tied with all of our Vultr-based VPS hosting packages. The StatusCake speeds are pretty identical, with Pingdom scores running a tad behind the Vultr tests, but still within a reasonable margin of "close enough".
GTmetrix again backs up Pingdom's test (or at least is closer there than StatusCake) and provides a ridiculously high out-of-the-box Lighthouse desktop score. The mobile score is in the middle of the pack, but still respectable.
Overall we're pleased with the performance from Rocket.net, and we'll see how the platform changes over the coming year.
6 – Cloudways with Vultr HF instance (managed WordPress hosting)
Cloudways
Cloudways is another popular VPS WordPress hosting provider. It's also a managed WordPress hosting provider. But wait, how can it be both? Well, think of it as a single product that combines the VPS provider (like Vultr) with the server management service (like RunCloud) into one single product.
The extra benefit here is that you can choose the VPS provider portion of your server. Cloudways supports Vultr, DigitalOcean, Linode, Amazon AWS Data Centers, and even Google Cloud (which is the most expensive on the list). This means that no matter where you are or what server-based features you need you can pick the best WordPress hosting services for you.
While Cloudways is a bit more pricey than rolling your own setup, it absolutely takes all of the hassles out of doing exactly that. You don't necessarily need to go into both your VPS dashboard and server management dashboard to do various tasks–it's all in the same place.
And the increase in cost for this ease of use isn't that much, in reality. Being able to keep everything under one roof is absolutely worth the marginal increase in price. Their dashboard makes things very easy to manage and removes some headaches that exist with the setup of separate services.
With everything being fully under Cloudways' control you'll be sure that everything works. together. Cloudways has its own stack that's been developed to work with all of its VPS providers. Of course, that also includes the CloudwaysCDN for edge delivery and built-in firewalls and security.
For this test, we have used another Vultr HF instance with 1 vCore and 1GB RAM, the same as our OLS test instance. As this is an Nginx stack we feel that all three are comparable and shouldn't have their data skewed too much.
Cloudways hosting plans
As Cloudways is basically a middleman their plans are entirely based on which VPS hosting platform you choose to deploy. Our testing is comparing to existing Vultr installs so we picked a corresponding Cloudways Vultr High Frequency plan, matching our Vultr/RunCloud 1 CPU 1 GB HF instance.
As with most WordPress hosting plans these days, you'll get a CDN, free SSL certificates, full support, free site migration, and as they're basically a VPS hosting platform you get unlimited WordPress installations.
Cloudways with Vultr HF and Nginx performance results
We'll be honest–Cloudways was a bit of a surprise in a good way. We've heard anecdotes of Cloudways wasn't as fast as a roll-your-own setup like we have with Vultr and RunCloud, and of course, some going the other way. When you break it down they're really very identical in function, but a bit different in how you have to manage it.
The fact that Cloudways took the absolute top spot in our testing on both Pingdom and StatusCake was the big shocker. But seeing the sheer performance with a low-effort WordPress hosting provider is absolutely a great discovery from our tests.
While we don't dislike Cloudways we definitely didn't have them pegged for a favorite in this comparison. But we do like fun surprises and these results absolutely delivered on the excitement.
Analyzing the WordPress hosting performance tests
Let's cut to the chase here–we were hoping that there would be one hosting provider that just came into the contest and wracked shop with the competition. That did not happen. Some gut instincts were vindicated, and some refuted pretty strongly, so let's take a look at our first chart comparing the median page speed results: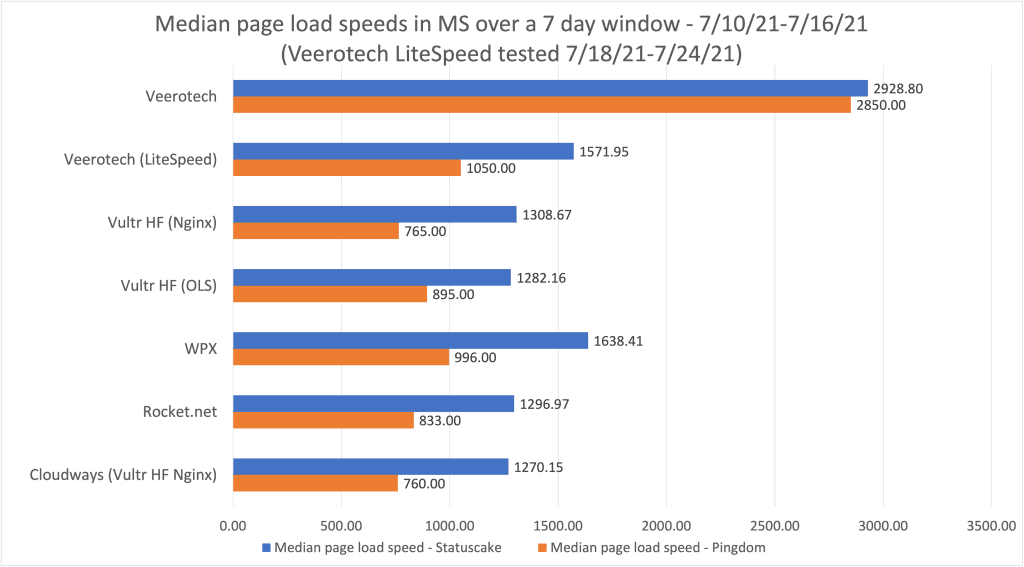 First things first–our shared hosting provider Veerotech got clobbered here without LiteSpeed caching. But! After turning on LiteSpeed the gap is actually closed considerably, approaching the same performance as WPX, coming in a bit faster in the StatusCake tests. As long as you can turn on LiteSpeed this makes Veerotech a very compelling web host for the value.
Second, hour host with the most bombastic claims of performance, WPX, is the next slowest in our testing. Other hosting comparisons contradict this, with those results showing a clear lead for WPX, or at least in the top three. We wanted to see a better performance from them as we do really like their web hosting plans.
Our top performers were all pretty much in a 4-way tie, however. With Vultr powering three of the four this isn't entirely out of expectations, however. And technically Cloudways' Vultr HF implementation scored the fastest on both Pingdom and Statuscake, beating out literally everyone–even if only by 5ms at the closest measurement.
It's also interesting to note that Cloudways technically is the fastest on the list, despite being only the 1 vCore, 1GB Vultr HF instance. Our Nginx instance does have multiple sites on it already and we're not surprised that an aging multi-site instance is barely being beaten out by a lower-tier fresh instance.
We have one more graph to look at, however. Let's take a look at the reported page sizes for our test sites: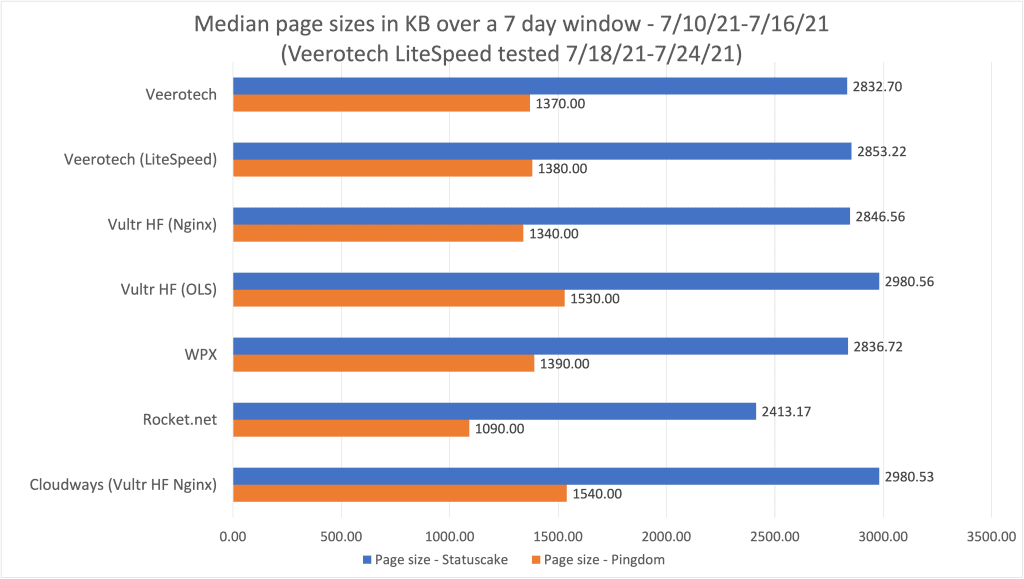 This is, of course, a much more close graph. Not every WordPress install is exactly identical, despite trying to get it all as similar as possible. WPX, for example, has its own customized deployment of W3TC for caching which is installed to every application on your plan. Our Nginx instance probably has some long-forgotten Nginx-based compression tweaks made that we couldn't hope to replicate elsewhere.
But it's interesting to notice that there is a bit of variation between the sites, but it's not that drastic. Even Veerotech is almost identical with and without LiteSpeed turned on. The only real massive difference is with Rocket.net. They do offer their own custom implementation of Cloudflare Enterprise and a pretty extensive full-page caching solution which could absolutely result in a 400K+ reduction in page sizes.
In theory, this should also translate into much faster page load speeds, but we didn't end up seeing a correlating improvement over the rest of the test sites. This may end up helping larger sites down the line, but at this basic level of testing, it didn't win anything extra.
Nginx vs OpenLiteSpeed for WordPress hosting
This was another head-to-head battle we were hoping to see more distinction between. OpenLiteSpeed is clearly one of the big buzzwords in the WordPress hosting space these days, and many boast that it's absolutely faster than Nginx. Our test proves this to be incorrect.
As mentioned above, our Nginx Vultr instance is not a fresh install, but instead, one that's been around for a few years. When comparing a fresh comparably spec'd Vultr instance against the old Nginx one the difference is within the margin of error.
While we could spin up a fresh Nginx server for a true apples-to-apples comparison against OLS, well, we just didn't. If we're bored enough at a future date we may do this, but until then, we're comfortable in saying that there's not much real difference between Nginx and OLS stacks when hosted on the same hardware at worst, and a fresh install of Nginx without a few years of package rot would handily beat OLS.
We do, however, see that on Pingdom Nginx was faster, and on Statuscake OLS won out. Both were less than 20ms apart, so, again, a reasonable margin of error. Basically, we're calling this one a tie for now.
Managed WordPress hosting vs unmanaged/VPS WordPress hosting
This is absolutely a more murky verdict, as the term "managed WordPress hosting" doesn't really mean anything, in particular, these days. Yes, Rocket.net and WPX are basically "managed" hosting providers, but you can basically get the same thing through Cloudways in a manner of speaking. No, it may not be as in-depth as far as actually dealing with WordPress itself, but you get 90% of the benefits.
And with how far RunCloud has come in the past few years, it's really made VPS management a breeze compared to when we started with Vultr. It's still not perfect and you're missing more expansive firewalling, CDN, and WAF features but it gets you most of the way there.
Last, we're that the lack of "true" premium managed WordPress hosting providers such as WPEngine aren't on the list. We'd like to eventually get around to that, but again, that's for future us to deal with.
But in general, I think we can conclude that the division between managed WordPress hosting and "unmanaged" hosting is definitely blurring. We like that this change is occurring and look forward to what this means for the WordPress hosting industry moving forward.
Overall best WordPress hosting provider: Vultr and RunCloud
Vultr and RunCloud
Our top pick for the best WordPress hosting is going to be Vultr combined with RunCloud. That said, whether it's Vultr and RunCloud or Vultr through Cloudways, you absolutely can't go wrong with some sort of Vultr-based solution as per our testing. Other VPSes are probably pretty similar in speed, so if you prefer DigitalOcean and the like go ahead!
If we were to make a recommendation based on price, we'd probably say to go with Vultr and RunCloud. Even for the higher power 4GB 2 CPU High Frequency Vultr instance and a monthly Pro RunCloud plan, you're still coming out at a price less than the Cloudways equivalent.
We may be biased toward RunCloud a bit, but their dev teams have been pumping out new features pretty quickly making it a very compelling option for you.
Best WordPress hosting for speed and ease of use: Cloudways
Cloudways
If you prefer everything to be under one roof (despite the actual hosting still being housed elsewhere) Cloudways is an extremely easy and friction-free way to go. Even though RunCloud does manage a lot for you, Cloudways is just a tiny teeny bit more comprehensive.
Cloudways also seems a bit more user-friendly in the way that it's organized and built. Yes, both RunCloud and CLoudways offer a ton of features but it seems that Cloudways is just a bit more documented in some aspects.
Best WordPress hosting for non-techies: WPX
WPX
While WPX didn't take home a top 3 finish in our testing at this point, it's not terribly far off. And the fact that you get 90% of the way there with a 5-site basic plan that is really beginner-friendly for non-techies goes a long way.
And their support is fantastic–if at least requiring a bit of patience and careful use of the English language. But like we said before, we've never had a ticket they haven't been able to fix.
In general, for the money you put down on a WPX plan you get quite a lot. We hope to see some speed improvements in the future, but for now, it's a solid recommendation for those who don't need all the nerdy stuff we get with our other top picks.
Best WordPress hosting for beginners: Veerotech
Veerotech
We didn't expect to necessarily recommend shared hosting in a list populated by VPS and managed WordPress hosts, but with the absolute monstrous performance gained with LiteSpeed caching turned on shared hosting can actually compete.
If you're starting out and don't want to put a lot of money into hosting we can absolutely recommend Veerotech's shared plans as a very viable option.
Final thoughts
While this isn't the most comprehensive test (yet!), we're excited about providing a bit of guidance and assistance in picking the right WordPress web hosting for you. Picking the best WordPress hosting provider isn't always the easiest task, but perhaps by demystifying some of the options out there we can make it a less daunting task.
It's important to remember that the majority of web hosting claims and marketing are exactly that–marketing. Bombastic boasting on the verge of hyperbole is everywhere and it's easy to get swept up in those big shiny graphics.
And while we acknowledge that this isn't necessarily the most scientific testing out there, we are striving to make it as representative as possible, and will hopefully be able to expand our testing to more hosting providers as well as more actual tests in the future.
Along those lines, now it's your turn. Is there anything here you'd like clarification on? Anything we missed or a WordPress hosting provider you think we should test? Leave a comment below with your thoughts and let us know!